A growing number of countries, including major economies, are setting ambitious targets to end their contribution to global warming. Progress towards a net-zero emission future certainly requires a mutually agreed road map that cordially brings together the governments, industry, companies, investors, and citizens as well.
Our climate challenge is an energy challenge. To drive the shift from targets to action, the International Energy Agency will in May publish the first comprehensive road map for the entire global energy sector to reach net-zero by 2050. This will set out a detailed analysis of what needs to happen across the global economy to recover from the Covid-19 crisis and put emissions on a path in line with a rise of 1.5°C. The road map to net-zero is vital ahead of the COP26 climate change conference in November when countries will set out their latest plans for cutting emissions.
Dr. Fatih Birol's op-ed in Financial Times on January 11, 2020
International Energy Agency (IEA), the leading global authority in energy and climate, is now preparing the world's first comprehensive roadmap for the energy sector to reach netzero emissions by 2050. The World's Roadmap to net-zero by 2050 report will set out in detail what is needed from all stakeholders to fully decarbonize the energy sector and put emissions on a pathway in line with limiting the temperature rise within 1.5 °C
"I am delighted to share that we are going to launch this special report in May to the global energy sector to reach net-zero target at 2020," said Dr. Fatih Birol, IEA's Executive Director, in a press webinar held online on 11 January 2020. "Tremendous amount of work needs to be done to achieve this goal from industry to companies, and governments to citizens,"
Dr. Birol added. The report will become a part of a series of new IEA projects to support efforts to reach global energy and climate goals.
Dr. Birol underlined the crucial importance of global tracking and accountability required to address climate change in his op-ed, published in Financial Times on January 11, 2020.
Dr. Birol: "National approaches are not enough to achieve the change we need — we must think globally."
IEA's Executive Director stressed the importance of global action emphasizing that the national approaches would not be enough to achieve the global targets. "We must ensure our collective aspirations can be turned into hard reality, because promises, however well-intentioned, can be broken. The U.K. and the Netherlands have set up domestic legal structures to hold governments of today accountable for delivering on their promises for tomorrow. But national approaches are not enough to achieve the change we need — we must think globally. That means better mechanisms to co-ordinate support for emerging and developing economies, so they have rapid access to the knowhow, financing and technologies to provide clean and reliable energy for all their citizens." Dr. Birol noted.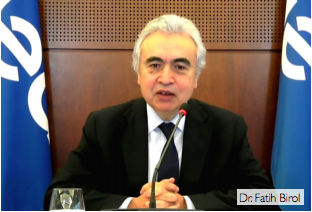 2020 is considered to be a milestone in setting climate goals as many of the largest economies and companies have announced that they aim to bring their emissions down to net-zero by the middle of this century or soon after. If the incoming U.S. president Joe Biden follows through on his pledges, countries now accounting for more than 60% of global energyrelated carbon emissions will have stated net-zero ambitions, according to Dr. Birol.