Mehmet Doğan Üçok, Ph.D.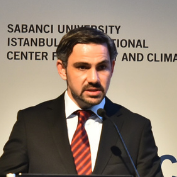 Dr. Mehmet Doğan Üçok serves as Coordinator of Istanbul International Center for Energy and Climate (IICEC) since 2012, in charge of coordinating progress towards achieving the overall objectives of the Center. Mehmet Doğan Üçok holds a Ph.D. in National and International Security Strategies from the Turkish General Staff War Colleges Command, Strategic Researches Institute (2012), with a specialization in energy security. He received his MA in Social Sciences (MAPSS - Master of Arts Program in Social Sciences) from The University of Chicago, USA (2004) and his BSc in Economics and Management from the London School of Economics (External Programme) and from the İstanbul Bilgi University Honors Programme.
During his research assistantship at the Massachusetts Institute of Technology Energy Initiative (MITei), Üçok contributed to "The Future of Natural Gas" in the geopolitics of gas section, working as an assistant to MITei Director Ernest J. Moniz (2010). Üçok's area of interest encompasses national and international security strategies, the geopolitics of energy security, foreign policy formation and diplomacy. During 2004- 2007, Üçok served as the Deputy Chairman and Country Sales Executive Manager responsible for Turkey at the Tuzlacı A.Ş. - the Exclusive Agency of Sultex AG of Switzerland.