FEATURE STORY - Followup on the US Pullout from JCPOAL:
On May 8, the Trump administration announced that the US would withdraw from the Iranian nuclear deal, formally known as the Joint Comprehensive Plan of Action (JCPOA). As a result, in collaboration between the US State Department and the US Treasury, the sanctions regime that was in-place preceding the agreement have now begun to "snap back", with two separate timelines of 90 and 180 days for governments and countries to start complying with the renewed restrictive measures. Many of the sanctions that had the greatest impact on oil markets will only be known after 180 days.1
Other parties to the deal, the P5+1, composed of central European powers, China and Russia, all exhibited vocal opposition to such a move. While the JCPOA remains in-tact, with Iran continuing to comply with its provisions, the US pulling out has made its survival largely dependent upon the EU parties and its efforts to mitigate the practical impact of renewed US sanctions.2The EU even went so far as to announce potential counter measures to US sanctions3, although this could place EU companies in a difficult position of being in violation of EU laws should they choose to sever economic relations with Iran. This has caused doubt in the market over the effectiveness of such policies. 4
European companies that had decided to re-enter the Iranian market or increase the flows of crude imports from the country following the implementation of the JCPOA are now taking concrete moves to hedge the risk posed by US sanctions. Companies participating both in the oil sector as well as other major industries, such as autos and airlines, are initiating a winding down of operations or seeking protection from other governments. Peugeot announced it is pulling out of Iran5 , while Total, which signed a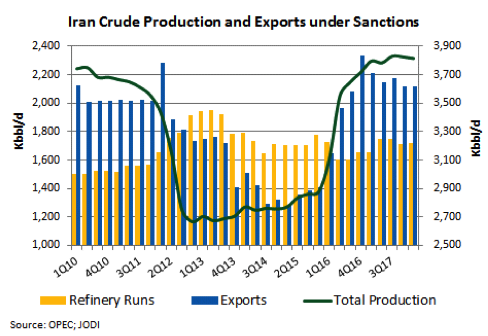 contract for South Pars Phase 11 alongside China National Petroleum Corporation (CNPC), has indicated it will request help from the EU in shielding sanctions. The Supreme Leader of Iran, Khamenei, is placing greater pressure on European governments and companies6, recently stating that Total has just two months to receive protection before it revokes the stake in the major natural gas project.7
From a short-term oil market perspective, the true measure for the effectiveness of US sanctions will be the degree to which the major importers diversify away from Iranian crude. With the opposition seen thus far from EU governments, the total ban on Iranian crude imports that was imposed in July 2012 is quite unlikely, although European refiners are beginning to seek alternative sources for similar crudes.
Japan and South Korea are the other two allies that can be expected to comply materially with US sanctions, although these two countries are so import-dependent that volumes from Iran will continue as they did from 2012-2015, although they will seek US waivers on these diminished volumes.