AS GEOPOLİTCAL TENSİON EASES, OİL PRİCES BACK TO BASİCS
Oil prices rose over $70 a barrel for the first time since May 2019 on the first days of 2020, as rhetoric from the United States, Iran and Iraq fueled the tension in the Middle East after a U.S. air strike in Iraq killed Iranian military commander Qassem Soleimani on January 3. While no oil facilities or production were affected, targeting Iran's most powerful general triggered a new crisis between Washington and Tehran, heightening fears of an armed confrontation that could pull in other countries. Concerns in the region, home to five of OPEC's biggest oil producers, have persisted over the past year as Saudi Arabia's key oil facilities and some oil tankers in the Persian Gulf have been attacked. The region accounts for nearly half of the world's oil production, while a fifth of the world's oil shipments passes through the Strait of Hormuz. Iran and Iraq combined pumped more than 6.7 million barrels a day of oil in December, more than one-fifth of OPEC output. Exports from both countries rely on the Strait of Hormuz, the narrow and crucial oil shipping chokepoint.
ary 6. "It is not a given that any potential retaliation by Iran would target oil producing assets. The precedent set by the Abqaiq attack (on Saudi oil facilities in September 2019) showed that the global oil market has significant supply flexibility starting when Brent is at $70 a barrel, even before shale production needs to ramp up, suggesting only moderate upside from here, should an attack on oil assets actually occur," Goldman Sachs claimed. While prices initially increased after the attack on Saudi Arabia's Abqaiq facility in September, crude then retreated in another sign that the market is concerned more with a surplus than supply shortages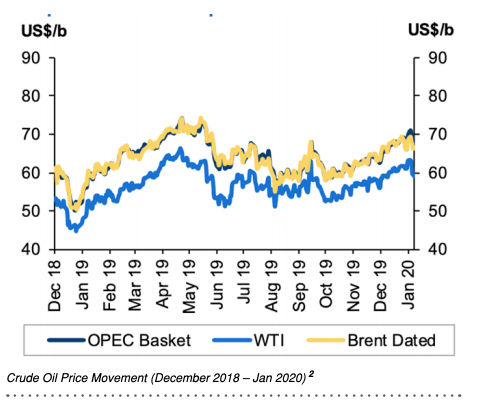 OPEC is sitting on vast amounts of spare capacity after reducing supplies for most of the past three years. Consuming countries from the U.S. to China control millions of barrels stored in strategic petroleum reserves that can be deployed to offset any shortage.
On January 6, Reuters reported that OPEC oil output fell in December as Nigeria and Iraq adhered more closely to pledged reductions, and Saudi Arabia made further cuts ahead of a possible new production-limiting deal to be discussed in OPEC's next meeting on March 5-6. According to a Reuters survey, OPEC members pumped 29.5 million barrels per day (bpd) in December, down 50,000 bpd from November's revised figure.