IEA'S NEW REPORT ASSESSES IMPRESSIVE GROWTH IN OFFSHORE WIND
The environmental and social constraints put pressure on the expansion of onshore wind farms, despite the fact that wind farms are a proven source of clean and affordable energy sources. However, wind energy is still considered to have a key role with solar PV in achieving renewable energy targets.
The future wind energy potential heavily depends on political choices, environmental and social concerns, and government policies. Key regulations, such as the minimum distance to the shore and density of  wind turbines on land and offshore, including 'no-go' areas designated for the protection of wildlife, have a significant impact on the future of wind farms. These constraints in some regions on the onshore wind farms, favor the conditions for the offshore wind potential.
The most comprehensive analysis on the offshore wind potential, published by the International Energy Agency (IEA) shows that the global offshore wind capacity may increase 15- fold and attract around $1 trillion of cumulative investment by 2040.2
This impressive growth in offshore wind is driven by falling costs, supportive government policies, and some remarkable technological progress, such as larger turbines and floating foundations, according to IEA's Offshore Wind Outlook 2019. IEA's Executive Director and IICEC's Honorary Chairman Dr. Fatih Birol launched the Offshore Wind Outlook 2019 in Copenhagen, Denmark – the birthplace of offshore wind – alongside the Danish Minister for Climate, Energy, and Utilities, Dan Jørgensen. The report shows that the offshore wind capacity in the European Union (EU) that stands at almost 20 GW  is set to rise to nearly 130 GW by 2040 under current policy settings. "However, if the EU reaches its carbonneutrality aims, offshore wind capacity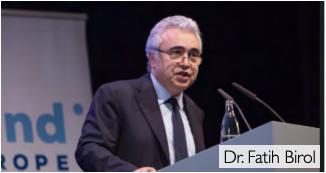 would jump to around 180 GW by 2040 and become the region's largest single source of electricity." said the report. Offshore wind resources in the EU are concentrated in northern Europe and are not equally distributed across the continent. New grid investments will be needed to transmit this remotely located power to where consumers are typically concentrated.
The IEA finds that China is also set to play a major role in offshore wind's long-term growth, driven by efforts to reduce air pollution. China's offshore wind capacity is set to rise from 4 GW today to 110 GW by 2040.
"In the past decade, two major areas of technological innovation have been game-changers in the energy system by substantially driving down costs: the shale revolution and the rise of solar PV," said Dr. Fatih Birol, in IEA's press release. "And offshore wind has the potential to join their ranks in terms of steep cost reduction." he added.